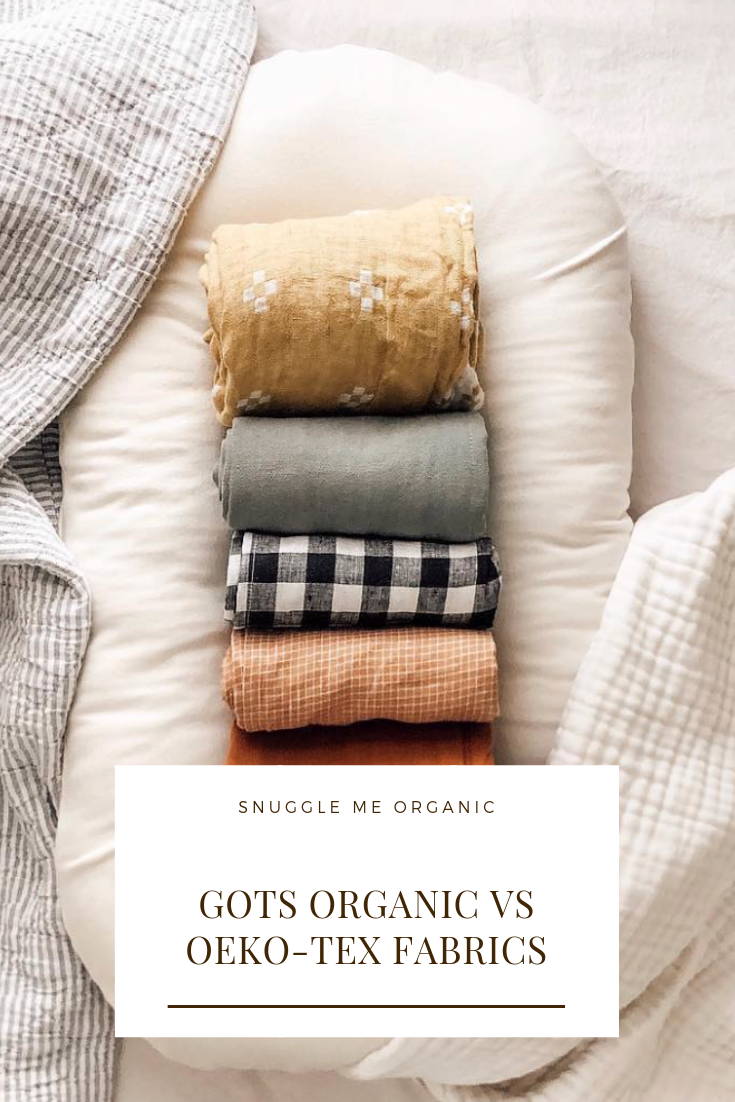 GOTS Organic vs OEKO-TEX
Everything we do is for our Snuggle Me families and that goes all the way down to the very fibers of our products.
When we first researched materials for our Snuggle Me Organic, I wanted to know which was the absolute BEST organic fabric to produce. I didn't want second best, I wanted the purest, highest quality materials possible. In a sea of low quality baby items, these details mattered deeply to me as a mother and for our customers.
After much research, we decided on USA-made, GOTS organic certified fabrics for our loungers, covers and swaddles. USA-made because the fabrics are ALSO subject to the rigorous CPSIA standards on TOP of the rigid GOTS organic certification process. You cannot get a more pure run of fabric than this and here's the comparison to the more common OEKO-TEX certificate that is used in many lower quality baby items.
GOTS ORGANIC STARTS AT THE SEED
To pass the GOTS certification, the very seed of the cotton plant must be certified non-GMO and organic by the USDA. There is no such standard for OEKO-TEX fabrics and they openly allow GMO's and non-organic seeds.
GOT ORGANIC PROHIBITS SYNTHETIC FERTILIZERS
GOTS Organic cotton cannot use synthetic fertilizers in any stage of the farming process. They can only use natural methods such as manure or crop rotation. OEKO-TEX allows synthetic, harmful fertilizers which can stay within the finished product.
GOTS ORGANIC PROHIBITS SYNTHETIC PESTICIDES
To pass the GOTS certification process, there must be no trace of synthetic pesticides of any kind. Period. OEKO-TEX allows synthetic pesticides including Triazophos (WHO Toxicity rating 1) and Alpha-Cypermethrin (WHO Toxicity rating 1) which can also stay on the finished product.
GOTS ORGANIC BANS SYNTHETIC ADDITIVES DURING PROCESSING
The process of turning raw cotton fibers into threads and then weaving into fabric is extensive. In GOTS organic certification, to get the fibers to cooperate and turn into threads, a vegetable based "de-sizing" agent is added. All de-sizing additives must be bio-degradable and disappear within 28 days or less to pass the GOTS certification process.
OEKO-TEX allows synthetic additives in their processing, some of which are not just hazardous to humans but also to the environment.
GOTS ORGANIC IS FREE OF FORMALDEHYDE
Formaldehyde is banned in GOTS organic and must have a 0% residue rate. OEKO-TEX allows 75ppm of formaldehyde in bedding and clothing designated to be against the skin. For items not designated to be against the skin, OEKO-TEX allows 300ppm of formaldehyde residue.
THE SNUGGLE ME ORGANIC FABRICS ARE SUPERIOR IN QUALITY.
For these reasons and so many more, we've opted to use only USA-made, GOTS organic fabrics. We understand that what touches your baby's skin matters. When looking at various fabrics, ones that will touch your baby's skin in particular, look for GOTS organic and steer clear of OEKO-TEX.
- Mia Carr
---