How To Create A Mother's Day Keepsake Journal
I'm a minimalist in every possible way. Almost.
You see, I have an obsession with blankets and keepsakes. Some may call it hoarding, but I just like to think of it as a desire to stay warm and cozy from the outside in. I have spent years finding ways to keep photographs organized along with the arts and crafts that come from three boys daily. Throwing those things out can feel absolutely horrific at times, but storing it all is another issue in itself. I'm ashamed to say I haven't found a solution for my blanket problem, but when it comes to important days like birthdays or Mother's Day/Father's Day, I've found a way to keep things neat and tidy without throwing any of it out.
I started using journals for special occasions when my oldest was 2, and I haven't looked back. One book that I can flip through and see every phase of life captured all bound together neatly. Letter's, illustrations, photos and taped in flower petals/etc. All of it there for me year after year. It's all I want for Mother's Day each year. One page from each boy, telling me what they remember from their year as my son. It's so special and inviting to look through often. They really bring me a lot of joy! So let's help you make one for Mother's Day!
Supplies are already there for you most likely, and you can make it as minimal or grand as you like. Invite your children to help select aspects and really put their mark on it!
Journal - any blank canvas will do. Lined or unlined, large or small.
Pens - My husband does the help with this each Mother's Day eve, and let's them select what to use. If they use a pencil, he simply goes over their markings with a pen so that I don't lose that memory. For now, our oldest is learning to read and write, so he insists on a pencil. So pencils it is this year!
Photo tabs/photos - This is an extra, but something that is super special to me. We use an instax poloroid camera and my husband snaps a photo of them working on their page, as well as a photo of us all together the next morning. Tabs already there for us to slip that one in once it's ready. Flipping through the years of Mother's Days tends to bring on the tears and my children love giggling at the days when my four year old was bald and the 6 year old drew people with claws for hands.
tape - It's not a bad idea to let them stick a treasure to a page if they want. My oldest taped in a "Wedding ring" he "bought" me years ago and I love seeing that taped in, remembering that phase when marrying me was life goals ;)
The night before Mother's Day, my husband will get them together and they each "write" me a letter. For those first years he of course did the writing. When they were too little to speak he wrote for them. The first year he did handprints on the pages, and as they got older they would color and draw alongside his letters. Once they could begin telling him what to say, he would write out their thoughts and add a little of his own to close. This year, I'm pretty excited to get my first hand written letter from my oldest. My 18 month old is really into drawing circles, so I imagine his page will be covered with those next to a letter from his Daddy. It could all be scribbles and I wouldn't mind one bit. These books are my greatest treasure.
The fun thing is, this works just as beautifully for moments like Birthday's (letters from family within), vacation books and Father's Day. Any occasion you can avoid stacking up greeting cards and create something that can be passed down to your children! Now go find a journal and a few pens before Sunday!!
Sunny Xx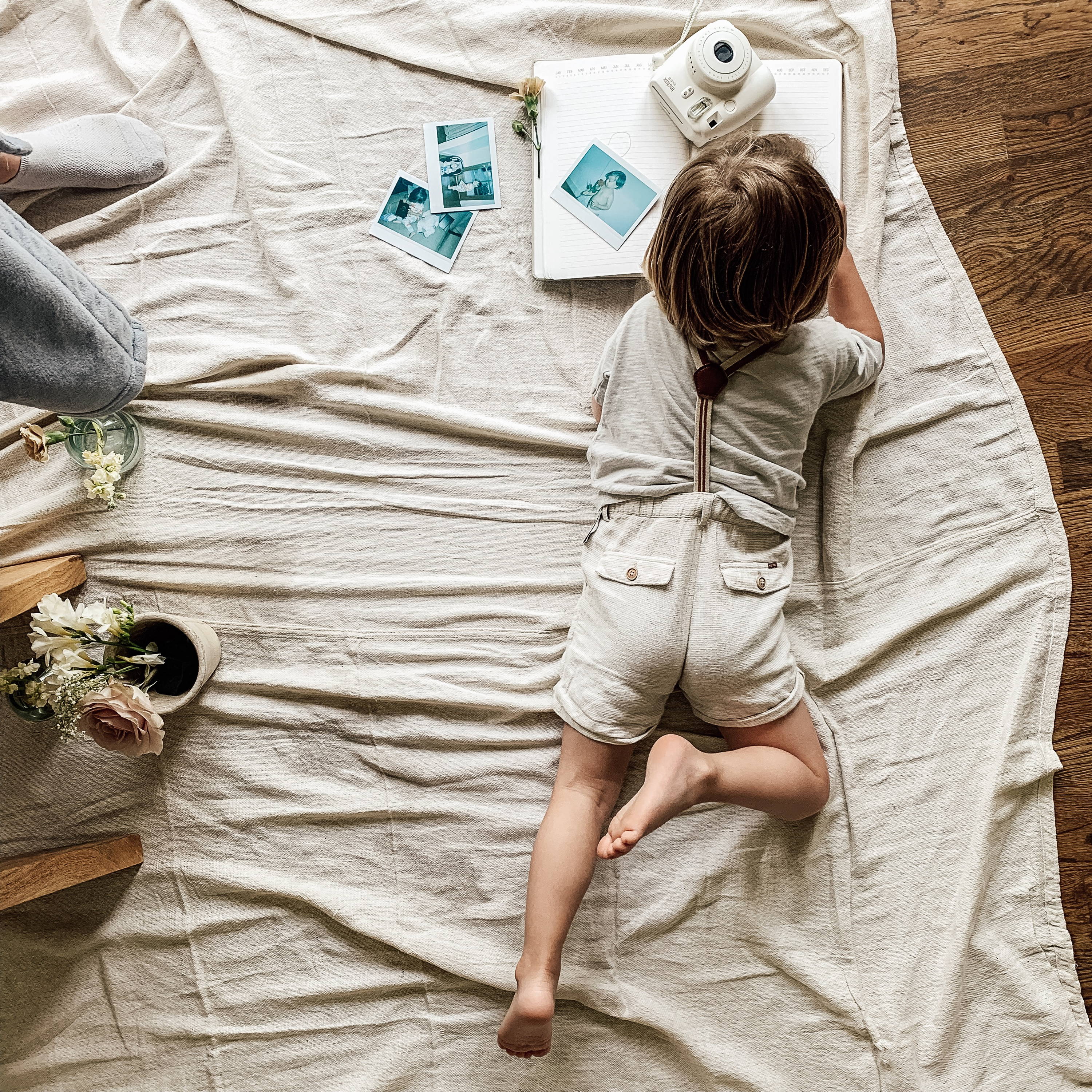 ---