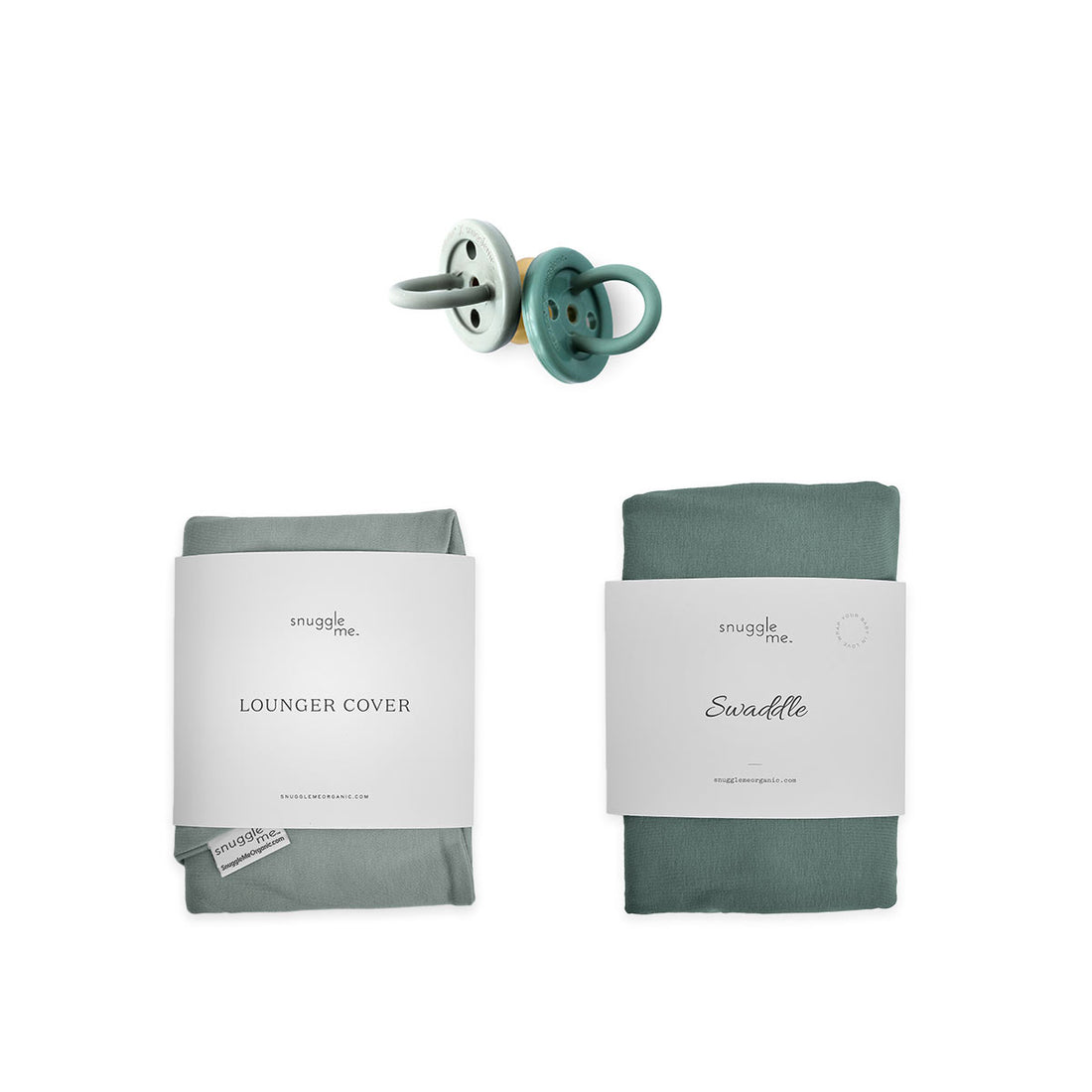 Slate Infant Cover + Moss Swaddle + Moss/Slate Pacifer Pack
For babies 0-9 months. The Snuggle Me is uniquely designed to hug your baby's body and create a safe space to play. The Snuggle Me is designed for actively engaging, playing, and bonding with your awake little one.
These eco-friendly, compostable pacifiers feature a seamless build that makes them easy to clean and hygienic. They have a symmetrical teat which is soft to touch and gentle on your baby's face and lips.
What age are pacifiers suitable for?
They are suitable for babies aged 0-6 months.

What are pacifiers made of?
They are made with 100% natural rubber. They are FDA approved and free of BPA, PVC, petroleum, and phthalates.
Washing instructions:
Hand wash only in hot water with mild soap prior to use.
Safety is #1.
Your baby's safety matters to us. According to safety standards all pacifiers should be replaced every 6-8 weeks for hygiene and safety reasons. Inspect pacifier daily with a gentle tug test for any small splits or changes and discontinue use if found.
Keep in a clean, dry place out of direct sunlight or contact with a source of direct heat. It should be stored in a closed, clean and dry container.
Very few children are allergic to natural rubber; however, watch out for any allergic reactions, and stop any use if an allergic reaction should occur because of using the pacifier.
The Snuggle Me Infant Lounger Cover is made with soft 100% organic cotton to protect your lounger from minor leaks and spills.
It is made to easily slide on and off your lounger for quick washing, and to easily switch up colors.
Washing Care:
Machine wash on a cold gentle cycle with gentle dye free detergents. Do not pour detergent directly on the cover. Wash by itself, and disable top loaders with agitators. Air dry on a flat surface until damp, then tumble dry on low. Adding heat to any of our covers will shrink them.
We ship orders within 10 business days. You'll receive a tracking link via email once your order has been shipped. 
US shipping (Hawaii, Alaska, Guam and Puerto Rico not included) is priced by package weight. We currently do not offer expedited shipping or ship to PO Boxes. 
**Please note that Holidays may impact shipping times/rates. See Holiday notices when ordering over National Holidays.**
We gladly accept returns and exchanges for eligible products that were purchased directly through our website within 60 days of purchase date.
The following types of items are final sale and are not eligible for return/exchange:
- Items marked "Limited Edition"
- Items marked "Imperfect" (as part of our "Imperfects" sales)
- August River clothing
- Pacifiers